Shimonoseki was published domestically and released abroad Shandong People 's Publishing House explores the new model of "going out"
Source:
Original
|
Author:rmcbs
|
Views:962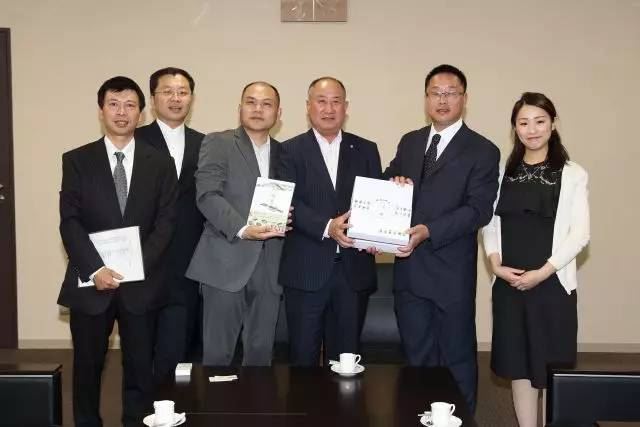 With Speaker Tozawa Akio (third from the right)
On June 2, 2017, Shandong People's Publishing House first released the new book Shimonoseki in Shimonoseki Japan successfully with strong local concern. Shimonoseki City Hall, City Council, City Hall Tourism Department, Kitakyushu Overseas Chinese Association, the author of the book Mr. Yan Xianhui and local television, Yamaguchi News, Ube Daily and other media representatives together participated in the new book releasing conference. The event had become another useful attempt of Shandong People's Publishing House exploring new publishing formats.
Before releasing the new book, Shimonoseki Mayor Maeda Shintaro and City Council President Tozawa Akio met with vice president of Shandong People's Publishing House Wang Lu, Mr. Yan Xianhui and his party.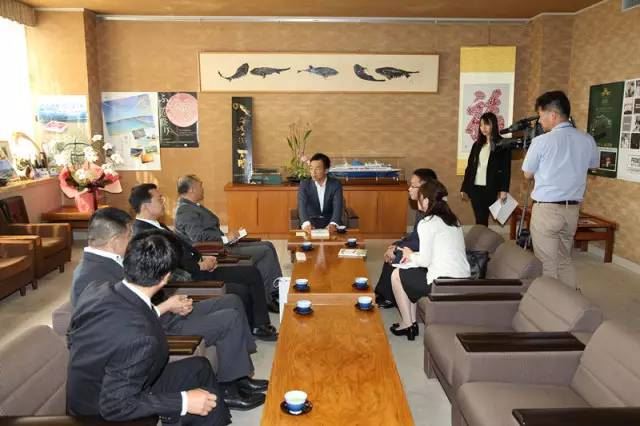 Talks with mayor Maeda Shintaro
They highly affirmed the importance of Sino-Japanese folk cultural exchanges and gave full appreciation to Shimonoseki published by Shandong People's Publishing House. They thought that it would play a huge role in promoting the Japanese people to know more about China's publishing and the Chinese people to understand the Japanese social situation.They had full expectations on the Japanese version of the book. Wang Lu, vice president of the Shandong People's Publishing House, briefly introduced Shandong People's Publishing House and the publication situation of the book. He thanked the warm reception of relevant parties in Japan and presented Shimonoseki and Water Margin Hero Cup which was rich in traditional Chinese culture as gifts.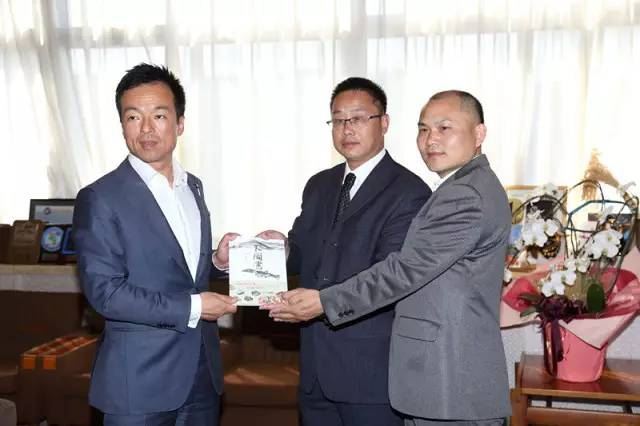 Presented book to the Mayor Maeda Shintaro (first from the left) as a gift
Vice Mayor of Shimonoseki City Miki Junichi and Vice President of the City Council Kameyama attended the new book release conference and addressed separately; Wang Lu,Vice President of Shandong People's Publishing House, gave thanks on behalf of Shandong People's Publishing House; Mr. Yan Xianhui introduced the creative origins and other situations of the book to Japan Shimonoseki book; Japan Kitakyushu Overseas Chinese representatives, Shimonoseki cultural representatives and other also sent blessings to the publications and releasing of Shimonoseki.
Yamaguchi News
Japan's mainstream newspapermedia "Yomiuri Shimbun" first gave and promoted cultural news on headlines; Other important media of Shimonoseki such as Yamaguchi TV News Columns,Yamaguchi News and other medias also gave key publicity of the releasing activities of the book .